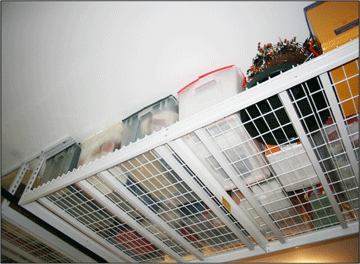 "Garage Busters has really busted our garage mess!
We had three racks installed, and our storage problems disappeared. The installation was done efficiently & professionally. We couldn't be happier with the way our garage was transformed.
Thank you Garage Busters!"
-- Allesandra and Richard K, Brentwood, CA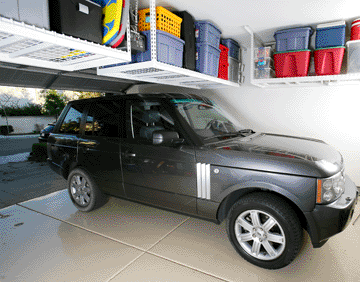 "We are very happy with the significant increase in storage capacity for our new garage. The work done by Garage Busters was quick, professional and cost-effective. They performed a very thorough assessment of what the possibilities were with the SafeRacks system and the solution was a perfect configuration that maximized all of our storage needs. We heartily recommend Garage Busters."
-- Jose C., Menlo Park, CA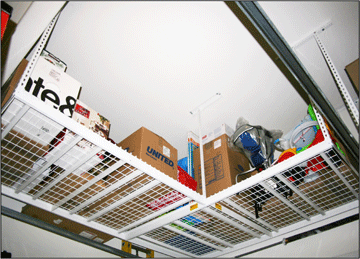 "I wanted to get back to you and thank you again for your help with the SafeRacks. The design and configuration you suggested really maximized the amount of storage space that I had available in my garage and they look great! My wife especially likes how the white racks blend in with the color of the walls.
I did the math and figured that the racks give me just over 100 square feet of additional storage. That is equivalent to adding another room to my house or having a locker in a storage facility! Recently moving and also having a baby, I can assure you that the racks will fill up soon.
A few neighbors have already stopped by to ask me where I got the racks. I will be sure to pass your information along.
Thanks again for the great job."
-- Paul L., Elk Grove, CA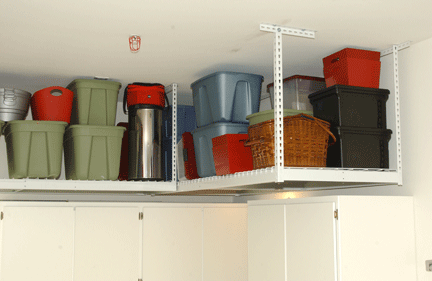 "Garage Busters
You are absolutely the Best in Marin!
Responsive, best value, your attention to detail was great."
-- STG Larkspur, CA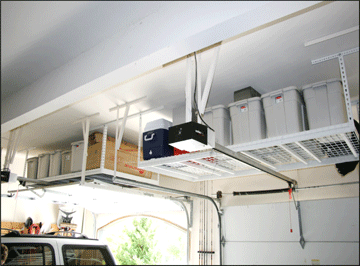 "I can't tell you how thrilled I am about the 4 large racks you installed for me. Both the product and your installation is of the highest quality. As I had mentioned on the phone, I had looked at the cheaper racks and thought I would save money by doing it myself. Oh boy, am I glad I found you instead. Not only did I get a better product, but it was installed faster than I ever could have done it myself and afterward I had plenty of energy to get all my stuff put up in the racks. The garage looks great, my wife is happy, my cars are parked inside.
That was the best money I ever spent!"
- - Jamil Z., Elk Grove, CA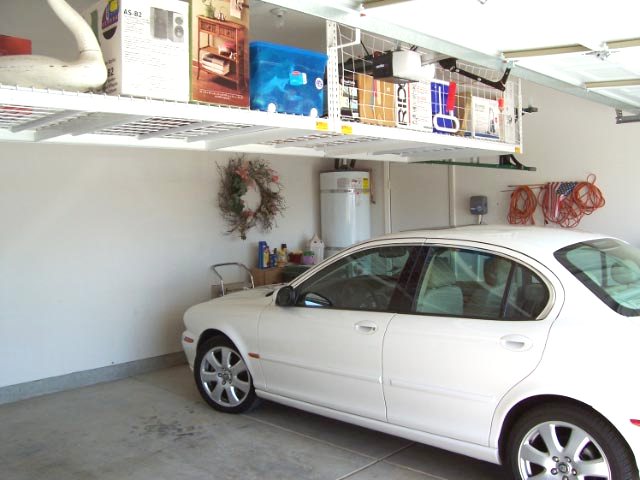 "To the Folks at Garage Busters,
I just wanted to drop a quick note to say what a fantastic job your crew did with the installation of the four 4x8 ceiling racks we ordered. I greatly appreciated you showing up at the time promised, provided a thorough explanation of what you were going to do, and to quickly figured out out a way to solve a rafter alignment problem due to the many angles of our roof, it made for creative thinking, which you handled quickly and beautifully, and left nothing for me to clean up afterwards. The quality of the product and the craftsmanship of the installation makes me feel good to know there is a company that can offer a top of the line product and then back it with a true craftsmanship installation. Now, can we please talk about getting my floors done..???"
-- Carlos and Karen P., Sacramento, CA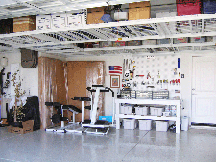 "These racks are the best thing since sliced bread!"
-- Kathleen O, Roseville, CA