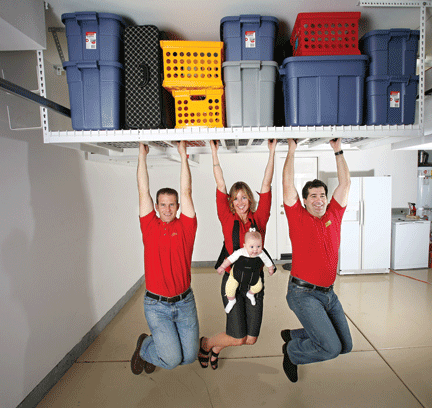 Wall shelves are a great addition to the overhead racks, and hold up to
bb

150 pounds!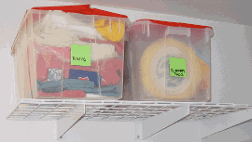 SafeRacks
™

SafeRacks™ overhead garage racks are available in 11 sizes with customized heights that can be adjusted to fit ANY space in your garage. No other overhead rack is more durable, attractive, safe and cost effective.
Not sure exactly what you need?
No problem. Our sales team can help talk through options with you on the phone. Once our installers arrive at your house, they will walk through your order and offer suggestions before they begin installing your products. If you would like to make a change, installers carry additional sizes and quantities so they can make adjustments while they are at your house. You can always change your order and you will not be charged until the products are installed.
SafeRacks are designed to be the strongest overhead storage solution available with a warranty to back it up.

Holds up to 600 pounds
Limited lifetime product warranty
Multiple ceiling connections at each vertical support for added strength
14-gauge industrial grade steel
Powder coated white for added protection and appeal
SafeRacks are Built to Last
SafeRacks are designed first and foremost for maximum strength and durability. Each product boasts an industrial quality design and is manufactured with 14-gauge industrial grade steel. The horizontal supports are created with a c-channel design with wire mesh decking on top. The support structure of each rack is tested to hold up to 1,500 pounds. Since we can't know the structural rating of every garage or header beam,
the SafeRacks design is backed with a lifetime product warranty at 600 pounds when weight is evenly balanced.
To maximize the amount of weight that can be held when attached to the ceiling of your garage, SafeRacks makes sure that each vertical support is attached to at least 2 ceiling supports. This dual connection design helps to displace the amount of weight bearing on any single joist and provide backup strength for each vertical support.
All products have a double white powder coating to have an aesthetically pleasing appearance in your garage that won't rust or chip, and will last.